Did you know you don't have to wait for the spring season to come around to see beautiful flowers? You may have even heard the phrase "winter gloom brings spring bloom," but you don't have to settle for waiting for months to feel happiness in your garden. In fact, gardening in the fall can be the most delightful time for you. POPS Landscaping will share with you a list of flowers that are known to thrive in the fall. These fall flowers are great at adapting to cooler weather and adding different hues of reds, oranges and yellows to your space.
There are a few types of flowers that bloom all summer into the fall time such as Heuchera flowers or Gaillardia flowers. However, when considering what will bloom well this fall, be sure to keep in mind that some types may work better than others in your garden beds. Simply put, some flowers require more care than others. Pay attention to the amount of sun that comes in at different times of the day. This helps you determine what plants will survive the cooler months to come. Our landscaping company offers great services to help you throughout the entire process. We will take into great consideration what will work best in your environment and your wants to provide the fall flowers of your dreams.
Let's consider a few great fall flowers to start:
Viola
Viola flowers also called "Johnny Jump Ups", are tough and tolerant of cold months. They are wonderful additions to any garden, and you may be familiar with them from their relativeness to pansies (wild pansies). While Viola flowers are almost identical to pansies, they are a bit smaller in size. There are many different colors you could use for your garden, but they are most known for their tricolored, five-petal blooms of purple, yellow and white. The care for them is pretty low maintenance, so it would be a great choice for those of you who may be beginners. They require rich, moist, well-draining soil and full sunshine, which is important to note.
Be sure to not allow these to become overwatered or placed in overly moist conditions, because of the ability to produce mildew. Since they do well with sunlight, but not too direct sunlight, it is a great fall flower choice. They are quite sensitive to hot temperatures, but they love cool, even frost-type, temperatures. Our landscaping company would love to give your home style with your choice of violas! No landscape is complete without beautiful fall flowers.
Sweet Alyssum
This plant is a great companion plant. Did you know that some plants, when grown together, actually can boost each other's growth, and fertility and help protect them from pests? Some plants like sweet alyssum make a great companion plant for any aphid-prone crop such as roses, fruit trees and others. Other great companions include vegetables like lettuce, carrots, peas, peppers and others that thrive next to sweet alyssum. While this plant has many pros, one of the best parts of this fall flower is its look. When the plant is in full bloom, you will see beautiful flowers grown in close clusters. It gives off a sweet aroma (hence the name) like honey and typically has a purple or white color. Even when temperatures get into the low 40s, these flowers can thrive if cared for properly.
Sunflowers
Most sunflowers actually tend to make their appearance around mid to late summer through early fall. So they are ideal for your garden this fall. As you plan your pumpkin patch trips and haunted hayrides, be sure to visit your local sunflower field to see hundreds of these beautiful fall flowers. You can have these in your own garden this fall with our landscaping services! These flowers are gorgeous, tall and tough plants that can reach over 10 feet in height. They love sunshine, so make sure your spot for them will receive plenty of sun each day. Sunflowers can survive even in the cold winters, but they may dull a little in color. That is why it is best to have these plants thriving in the fall.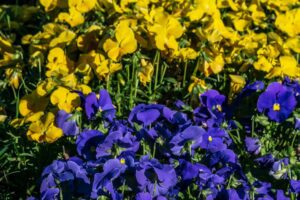 Below is a list of other fall flowers to consider calling our landscaping company to help you with this season:
Marigold, Sedum, Dahlia, Petunia, Aster, Flowering Kale, Croton, Purple Fountain Grass, Celosia, Pansy, Chrysanthemum, Cosmos, Hardy Fuchsia, Sumac and others.
Call POPS Landscaping Today!
Over 75% of the top real estate agents say that well-landscaped homes are worth between 1% to 10% more than homes without landscaping. You don't have to face that task alone! Call us today. We can help give your home a beautiful appeal that will stand out from your neighbors. Our landscaping services can meet all of your aesthetic needs, and help you maintain your landscape. Contact us today if you're interested in having our landscaping services! We are experienced and willing to go above and beyond for you with your wants and needs.