As the light of day gets shorter in the state of Georgia, people find themselves indoors more than out. Well, the best way to fix that is with a fire pit in your backyard. Fire pits have multiple benefits and can improve your overall landscaping and backyard. Here POPS Landscaping details five reasons why having a fire pit in your backyard is worth the investment.
Add a fire pit to your landscaping design
Social Hot Spot
Whether you're hosting an outdoor party or want to snuggle up with a significant other and chat for hours; a fire pit is essential. It is the ultimate focal point and creates an irresistibly ambient glow for a cozy evening outdoors. A fire pit or outdoor fireplace provides an ideal spot for people to gather around and chat, which is great for entertaining friends and family. Since it is a spot that people tend to gravitate towards, it encourages people to congregate in one area.
Outdoor Aesthetics
Not only does a fire pit provide warmth once the sun has gone down, but it can also change the aesthetics of your home and give your backyard a wonderful warm feel. The atmosphere created by a fire pit is relaxed and informal, and the heat generated by the flame adds to the cozy ambiance. The most underused space in the house is often the backyard, but when you have a fire pit, there's no excuse that it's too cold when you can sit next to those flames in the still of the night.
Expand Your Outdoor Space
The addition of a custom-built outdoor fire pit can add value to your home and expand your backyard. It also sets your home apart from the other homes in your neighborhood, while adding a useful and beautiful feature. Fire pits are ideal for creating an entertaining space. Much like indoor fireplaces, fire pits provide the perfect focal point for an outdoor sitting area, and they look fantastic surrounded by outdoor sofas or built-in bench seating topped with cushions.
Year Round Enjoyment
A warm fire on a cold night will bring people closer to a more intimate social setting. Georgia's cool nights are perfect for watching the sunset and lighting a fire. With a fire pit, you can enjoy outside living all year round. Even during the cool winters, it can be therapeutic to sit by a warm fire and enjoy a nice warm beverage.
Cooking
Another use for a fire pit is using the flames to cook a campfire meal. Nothing better than sitting by a warm fire with your family cooking hotdogs and s'mores and exchanging stories.
Relax & Enjoy
The benefits of having an outdoor fire pit go beyond their pleasing aesthetics. Something is comforting about sitting outside at night and having a discussion without fighting the cold or worrying about lighting the backyard. Fire pits at home give you a connection to nature without having to travel. They put the stars in your backyard and they help you connect with your friends and family on a more significant level.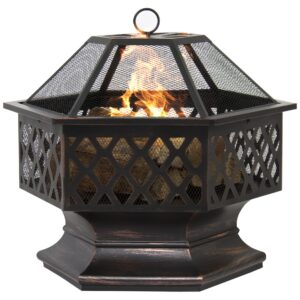 Looking To Invest In A Fire Pit Today?
POPS Landscaping offers a full range of landscape design and installation services, tailored to meet your residential or commercial needs. We specialize in the design and building of custom outdoor living spaces, outdoor kitchens and backyard retreats. POPS Landscaping has experts in building structures, decks, patios, pergolas, fire pits, stairs, outdoor kitchens, fireplaces, spas, swimming pools, as well as doing complete backyard renovation. We can handle your all-encompassing outdoor project, from beginning to end. Give us a call today for more information!