It's summertime: the days are long, the weather is sweltering, and the school year is looming around the corner. This warmer weather creates a great occasion to spend some precious quality time with family and friends. Moreover, a welcoming, beautiful outdoor space is a catalyst for community-building and get-togethers. Continue reading to learn how you can keep your lawn up-to-date with the latest Georgia landscaping trends.
Current landscaping trends in Georgia
Artificial Grass
For small backyard spaces, artificial grass can be a great alternative if you are looking for something that is durable and low-maintenance. According to the synthetic turf council, investing in an artificial lawn can save up to 70% of a homeowner's water bill. Artificial lawns also drastically reduce the amount of lawn maintenance needed and prevent the toxicity caused by pesticides and herbicides.
Outdoor Living Spaces
A great way to spend more time outdoors this summer is by investing in an outdoor living space. Creating a space to lounge, dine, and entertain in your backyard is a great way to make the most of your lawn. Here are some ideas to enhance your outdoor living:
Set up a pergola
Install an outdoor fireplace
Plant privacy trees around the perimeter of your property
Hang unique lighting from trees or pergolas
Add an outdoor rug
Eco-Friendly Design
The goal of eco-friendly landscaping is to reduce soil erosion, air pollution, and overuse of water. Additionally, green landscapes ensure that the natural ecosystems in the area are supported. Here are a few methods to make your lawn more environmentally friendly:
Incorporate Native Plants: Native plants not only require less maintenance, but they also provide food and shelter for native bird and insect species. You are sure to have a healthier lawn if you implement native plants into your landscaping. Here are a few of the many plants that are native to Georgia:

Flowering Dogwood
Bottlebrush Buckeye
Azalea

Be Responsible With Your Water Usage: Consider letting your grass go dormant during the summer months. This saves money, reduces water costs, and is what the grass is naturally meant to do. To let your lawn go dormant during the summer, do not stop watering it, just reduce the frequency of watering.
Consider Composting: Not only can you compost your food, but you can also compost lawn debris as well. This includes grass clippings, dried leaves, and fallen limbs. This broken-down organic material can then be utilized as an organic fertilizer.
Edible Plants
Incorporating edible plants into Georgia lawns became a trend during the pandemic when people had more time and more aversion to visiting public places like the grocery store. Even after this crisis, planting fruits, vegetables, and herbs in residential areas is still trending. Some Georgia communities, like the Georgia Club, are even going as far as to implement community gardens in their neighborhoods. There are a multitude of reasons why you should consider planting a garden or incorporating edible plants into your landscaping:
First, it can save you a great deal of money. If you do a lot of cooking, incorporating a few key plants in your yard can add up to save you hundreds on your grocery bill over time. This is why it's one of the more favorable landscaping trends to consider.
Second, home-grown fruits and veggies are much more nutritious than the ones available at the grocery store. They are free of herbicides and pesticides, so you can be proud of what you are feeding your family. Organic produce is more expensive when you purchase it from the store, but when you grow it yourself, it is even cheaper than generic produce which can be full of GMOs and pesticides.
Planting your own food is also a great educational opportunity for children. If you are a parent or grandparent, creating a garden is a great bonding experience to have with your kids. Additionally, your children will be excited to watch the plants grow after they have planted the seeds.
Finally, planting your own food is a great way to reduce your carbon footprint and contribute to a more sustainable lifestyle.
According to the UGA Extension, Here are a few edible plants that grow well in the Georgia climate:
Fruits
Strawberries
Blueberries
Apples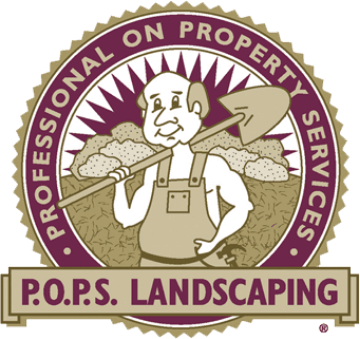 Looking Into new landscaping trends? Call Us Today!
Want to ensure that your lawn will look healthy and beautiful? Give us a call at POPS Landscaping. Our skilled professionals are equipped with years of experience to meet all of your landscaping and lawn care needs. POPS Landscaping offers a full range of landscape design and installation services, tailored to meet your residential or commercial needs. Moreover, we specialize in the design and construction of custom outdoor living spaces, outdoor kitchens, swimming pools, fireplaces, driveways, and backyard retreats.
We are fully equipped to handle any of your outdoor projects from beginning to end. Get in touch with us now to discover more! Contact us at 770-928-5658 or via email at info@popslandscaping.com.