Backyard landscaping ideas can be tricky. The variety of projects that fall under the category of backyard landscaping is a lot more diverse than you may think. Luckily, though, there's a lot to consider and get inspiration from and resources for finding out how to get started. POPS Landscaping can help you plan your backyard landscaping ideas. We offer landscaping service with really unique ideas and experience with challenging terrain.

Begin With a Backyard Landscaping Design Plan
Landscaping design is one of the most important aspects of any outdoor project. If you want to create an appealing backyard landscape design, hiring an expert who can help you with this task is essential. You can get help from professionals such as POPS Landscaping, who will provide you with a detailed plan for your backyard landscaping ideas. This will ensure that every aspect of your project is taken care of by experts who know what they're doing.
Hire Professionals
When it comes to hiring professionals for your next project, there are several things that you need to keep in mind. First, make sure that their work is licensed and insured so that if anything happens during the process, they will be able to cover their losses without affecting your finances too much. Second, make sure that they have years of experience with backyard landscaping. Do not attempt to do the work yourself – it could cost you more in the end.
Multiple Outdoor Living Areas
Add a patio with comfortable chairs and tables. This allows you to have breakfast outside in the morning sun or enjoy an evening meal with friends. The patio area also gives you a place to sit while relaxing after work or on weekends. You can plant flowers or use landscape lighting, making the patio look appealing at night.
Outdoor Kitchens
If you are looking for ways to make your backyard more functional and stylish, consider adding an outdoor kitchen! Outdoor kitchens come in all shapes and sizes, but they all provide functionality while adding beauty to the space. You can find everything from small grills to full-size ovens in these kitchens!
Add Water With Waterfalls, Ponds, or Streams
Adding water features such as ponds or streams is another great idea when landscaping your backyard! Water features will add beauty and tranquility to any outdoor space, which is why they're so popular among homeowners today!
Create Ambiance With Lighting
One of the most popular ways to create ambiance in your backyard is through lighting. You can install pendant lights over your patio or incorporate string lights into your landscaping design. If you want something a little more natural, consider installing solar-powered lights that will look beautiful when they come on at night.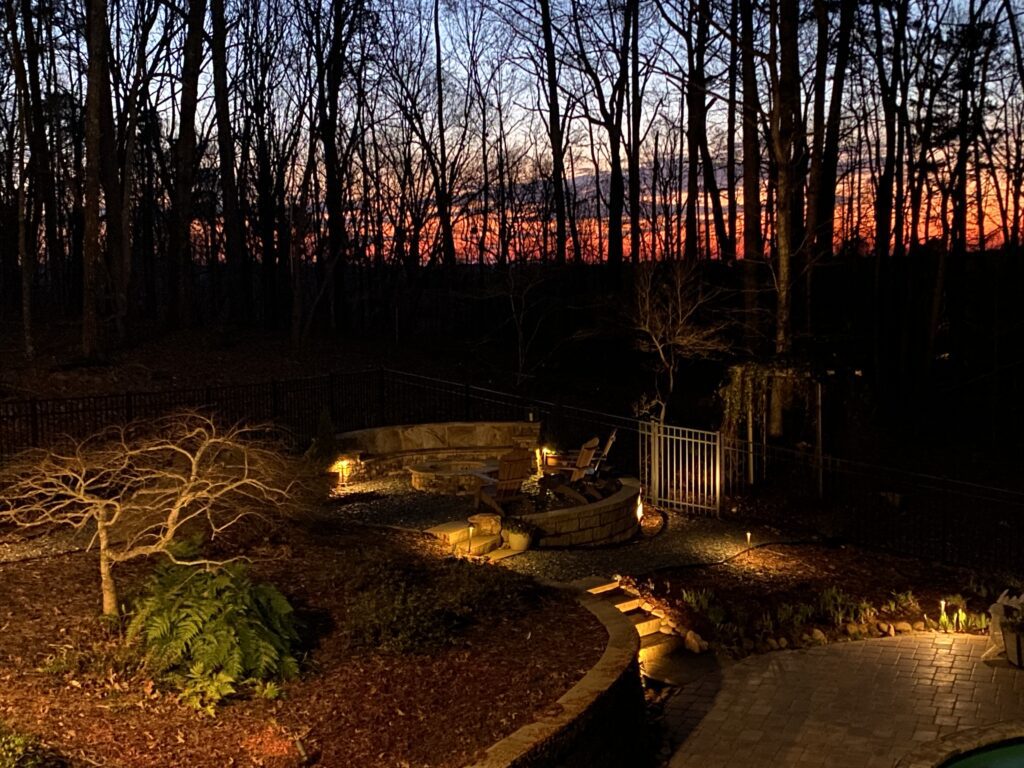 Campfire Space
If you like camping or just want an additional space where you can sit around a campfire in the backyard, install a fire pit with benches around it. This space can also be used for parties and gatherings with family and friends during warm weather months.
Install a Rain Collection System
Rain collection systems are becoming more popular as we learn how much water we waste using traditional sprinklers in our yards. These systems collect water from rainstorms, which can be used for irrigation or drinking water if needed! They're also better for the environment because they reduce runoff and pollution from chemicals used in traditional irrigation systems.
Plant Native Plants
Planting native plants are one of the best ways to simultaneously make your garden look natural and beautiful! Native plants have evolved with their environment over thousands of years, so they are well adapted to local conditions and do not require much care from homeowners either!
Arbors and Pergolas
When you want to give your yard a more formal, elegant look, arbors are the perfect way to do it. They can be used as an entryway to your home, or they can be used as an archway over a walkway leading from your driveway into your backyard. Pergolas are similar to arbors, except that they have multiple posts instead of just one central support beam like arbors do. Pergolas are also much taller than arbors and often have lattice work on top for extra support. If you have a small backyard and want it to seem bigger, adding an arbor or pergola will do just that!
Choose Pops Landscaping
If you're serious about creating a beautiful, functional, and durable backyard space, it's best to invest in the services of a professional landscaping company. These experts possess the skills and experience needed to create unique design plans. After all, there's no sense in reinventing the wheel—you need only define what you want to accomplish with your space and let the pros handle the rest. Here at POPS Landscaping, we pride ourselves on our customer satisfaction. We take pride in building relationships with our clients, and because of this, we strive to make sure that each and every project is one of their best experiences with our work.