As the warm summer weather settles in, people have started to enjoy the outdoors more. Having a few friends over or even a backyard BBQ can create the ultimate Summer day or night. That said, it's a great time to update your backyard to optimize your home. But what if you only have a small backyard to work with? Just because the space is small doesn't mean it can't be transformed into something amazing. You can do small backyard landscaping on a modest budget without taking up too much time. So what do you do with your smaller space? To help, P.O.P.S. Landscaping discusses some of the best small yard landscaping ideas. Check them out below and be sure to share a few pictures with us once you transform your small yard.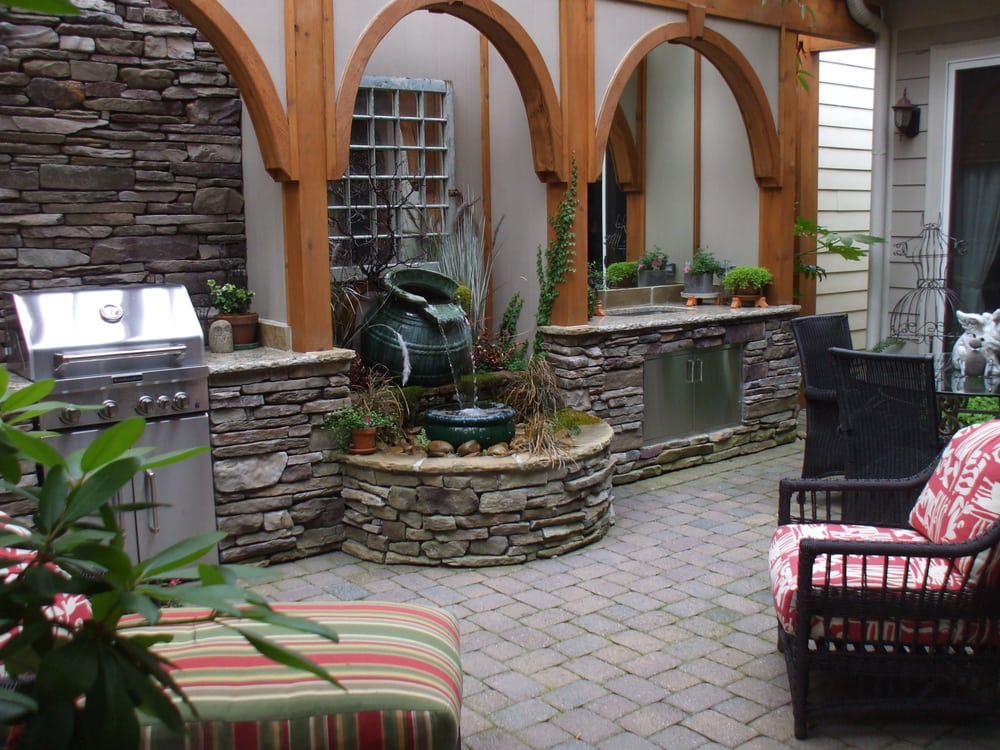 Small Backyard Landscaping Ideas
Create a Space For Entertaining Guests
When trying to come up with small backyard landscaping ideas, it's often common to create an area to entertain family or guests. When planning and measuring out the space, be sure to choose the right-sized furniture. Long family-style benches or smaller stools can add seating while not taking up the entire area. With seating, you can also add shade to block the sun on those hot summer days. Shade sails can be used instead of big umbrellas to conserve space. Talk to one of our specialists to figure out the best layout for you and your family.
Utilize Plants & Hedges
Create a welcoming atmosphere in your backyard, even if you only have limited space. Choose plants that not only look beautiful but smell nice as well. With a gorgeous nice smelling area, it's hard to not wanna spend time there. Plants can not only grab your attention, but they can also break up areas of sod. Place the plants around the walkways, walls, and water features to create a colorful border in your backyard. Also consider short hedges. They will act like fences and allow you to carve out a separate garden area from an entertaining area.
Create A color theme
Choosing colors to feature in your backyard is a great small backyard landscaping idea. Choose one or two neutral colors like grey, white, or black and one or two bright colors. This will make it easy to choose plants, patio furniture, and other accessories to coordinate. A color theme is one of those simple landscaping ideas that can make your space look professionally done.
walkways
Creating walkways for the backyard helps make the space more livable. Due to the small space, it's best to create narrower walkways rather than big wide paths. Consider using stepping stones or pavers; they are easy to install and fairly inexpensive.
Add Water Feature
Installing a water feature is a great way to add a bit of charm to a small backyard. Here are some possible ways to add water to your small backyard landscaping:
vanishing edge pond
small goldfish pond
orb fountains
half-moon pond
Asian-inspired water fountain
Create A Vegetable Garden
Turn your backyard vegetable garden into a usable space by adding a wire arch. The vegetables' foliage will envelop the arch over time, creating an enjoyable spot to relax and tend to the garden. If you are going for a more elegant vegetable garden, try building vegetable beds out of brick rather than wood. You can also swap out the grass for beautifully paved walkways like mentioned above.
Need Help With Small Back Yard Landscape Ideas? Call Us Today
P.O.P.S. Landscaping offers a full range of landscape maintenance services, tailored to meet your residential or commercial needs. The more homes in one neighborhood we service, the more competitively priced we can be on each property! P.O.P.S. also offers a full-service lawn maintenance program on an annual contract, weekly or biweekly service agreement. This program is a 'highly manicured' type that is all-inclusive—our fee ranges from $250 to $750 per month for most residential or commercial properties. Ask about our referral programs. Give us a call today!